An Embarrassment of Riches: Discovering a Thesis Topic and the Joys of Paris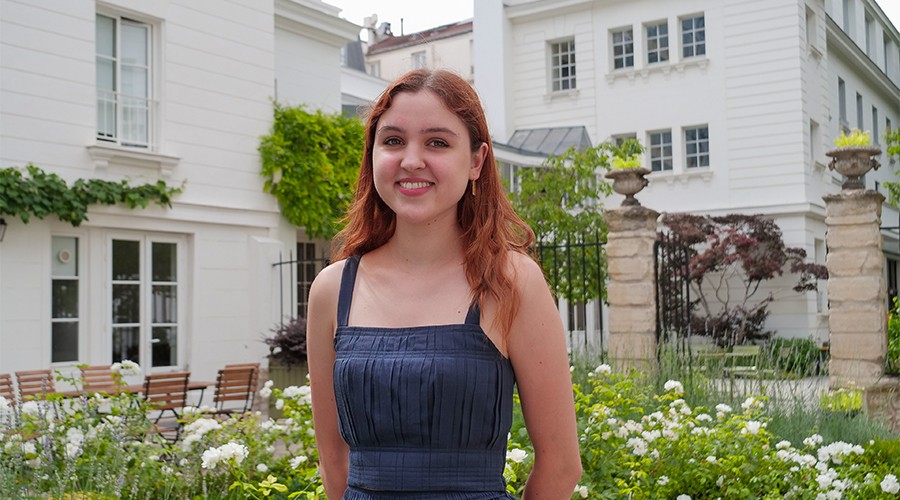 Charlotte Andreano is a Columbia College second-year majoring in History. She studied at Reid Hall in Summer 2023. As part of the English track, she was enrolled in "Blackness in French: From Harlem to Paris and Beyond" and "France's Abolitions and Republics," two courses taught by members of the Black France Consortium, an inter-university initiative between Columbia University, Dartmouth College, and Princeton dedicated to Black French Studies.
"I've had so many calls with friends and parents to just rave about these courses," said Charlotte. "They've been the highlight of my summer." She told us that by the end of the first day, she had an idea for a thesis. Over the course of the summer, she developed this new direction for her major. "How can I bridge this emerging interest in the study of the Atlantic slave trade colonies and post colonial life with my Spanish knowledge?" she wondered. "I've always, from a distance, been really interested in translation," Charlotte said. "What essence do you keep and what remains in the original language?" This is the question she hopes to study further in a potential thesis on the Spanish slave trade, inspired by her professors who themselves have done translation work throughout their own explorations of history, language, and culture. 
"I was wowed by how eloquent and genius my professors were," Charlotte said, "These classes seemed so important." She spoke of how her time in these classes led her to "want to explore things outside of them. Every single excursion and reading has been truly important to me." A course lecture from a visiting scholar that discussed representations of slavery in the Louvre, equipped her to have "a different view that made for a much more curated visit" when she later visited the museum. 
"Something that impressed me time and time again," Charlotte said, was the summer's Black France on Film series. Four screenings provided an overview of Black French experiences on film from the early 20th Century to today, commented on by guest scholars, filmmakers, and public intellectuals. Consortium students gathered beforehand over dinner and helped run the public event during the screening. "It feels like a privilege to have scholars in conversation with each other," Charlotte said, reflecting on encounters at these events and in the classroom. 
Charlotte's advice to future students is to "speak French in interactions that only require five words anyway." As someone who doesn't know any French, she was reassured to learn throughout her time in Paris that, pronunciation and grammar aside, "if you're going to get a coffee and you end the sentence with 'cappuccino,' you're going to get a cappuccino. So why have those first four words be English? Having it be a French interaction is really fulfilling." This summer inspired her to add Elementary French to her course registration wishlist. 
"I've felt a sense of luxury while being a student. I've had maybe two hot chocolates a day since being here." She encouraged students to make sure to "go out and get your filet de boeuf and your steak frites," because "you have to live as a student but also recognize that Paris is an elevated place. Getting to do both is like an embarrassment of riches."