Learning from Experience: A Step Toward Fluency for a Summer French Immersion Student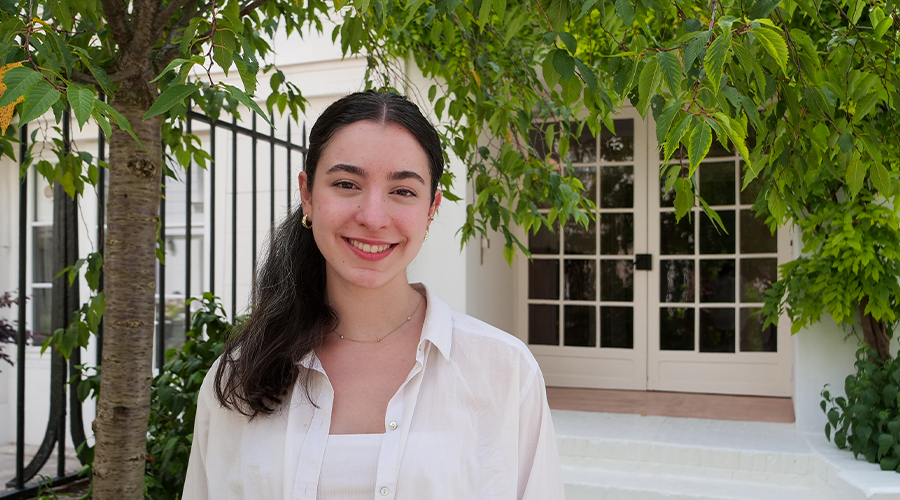 Mina Bengi Aral is a rising sophomore from Istanbul, Turkey studying Computer Science at Yale College. She participated in the Summer 2023 Intermediate Accelerated French course at Reid Hall.
"A very special part of learning a language is to be able to understand a piece of literature in its own language," says Mina Bengi Aral, a Computer Science major. She fed her interests in literature and philosophy alongside her major during her first year at Yale College, and decided to continue to do so over the summer. 
Mina wanted something fast-paced to get her back on track after spending some years away from the French language. She chose the Accelerated Intermediate French course, which covers the second year of French language instruction over a five week period.
"I think one of the most challenging aspects of learning French is practice," Mina said. "I've just never had an occasion in my life where I could speak French," but in Paris "you see the language in use and  in daily life." Speaking is emphasized in the accelerated French course, and Mina found her professor to be "really helpful in naturally incorporating this practice by having presentations constantly every week."
She recalls one unexpected interaction with a French woman in the neighborhood. "I was tying my shoelace in the middle of the road, and I was standing on one foot." The woman stopped, turned around, and said something in French. It took a second to register. "She told me that I have good balance, in French. First I looked blankly at her face, and then I understood and said thank you." Being able to follow small interactions like that, she said, "definitely gives you such a good sense of accomplishment."
Once, while waiting for a Reid Hall public event to begin, Mina and her classmates were studying for a quiz. "We were shouting words and the propositions that go with it," she said. One francophone audience member turned to them, and started helping. "They were very sweet!"
The Accelerated Intermediate French course is very dense and requires constant revision to keep up. Despite the impetus to stay in and study, Mina said it was important for students in this course to get into the city – even if just to study somewhere else. "I would study in the Luxembourg Gardens," she said, only a five-minute walk from Reid Hall. "The study abroad experience should be different from studying a language at college. Being mindful of the city is a major part of the experience." In her free time, Mina would walk "mindlessly around the city. It's very walkable. Any view is amazing, it's almost like living full-time in a movie set."
In reflecting on her growth in French, she likened her increased comfort in speaking French to her experience moving to America. Prior to studying in the United States, English served a primarily academic purpose. "I wouldn't use English to communicate with my friends," Mina said, "there was a shift in which I had to be able to express myself and make jokes in English, which is very different." French has become more natural "in comparison to when I first came here," she said. "I feel much more at ease engaging in conversations with people on the street, or even going into a bakery."
Mina said that this past summer "helped me make peace with French," which she was taught throughout middle and high school "without learning much," she said. "Now, I might actually seriously consider taking French at Yale."